Just as you have doctor visits for prenatal checkups, it's also important to visit your dentist for prenatal dental care.
Just as you have doctor visits for prenatal checkups, it's also important to visit your dentist for prenatal dental care. Your dentist can help discuss changes in oral health during pregnancy and what to look for. There is a connection between your health during pregnancy and your baby's health, so visiting your dentist during pregnancy is essential.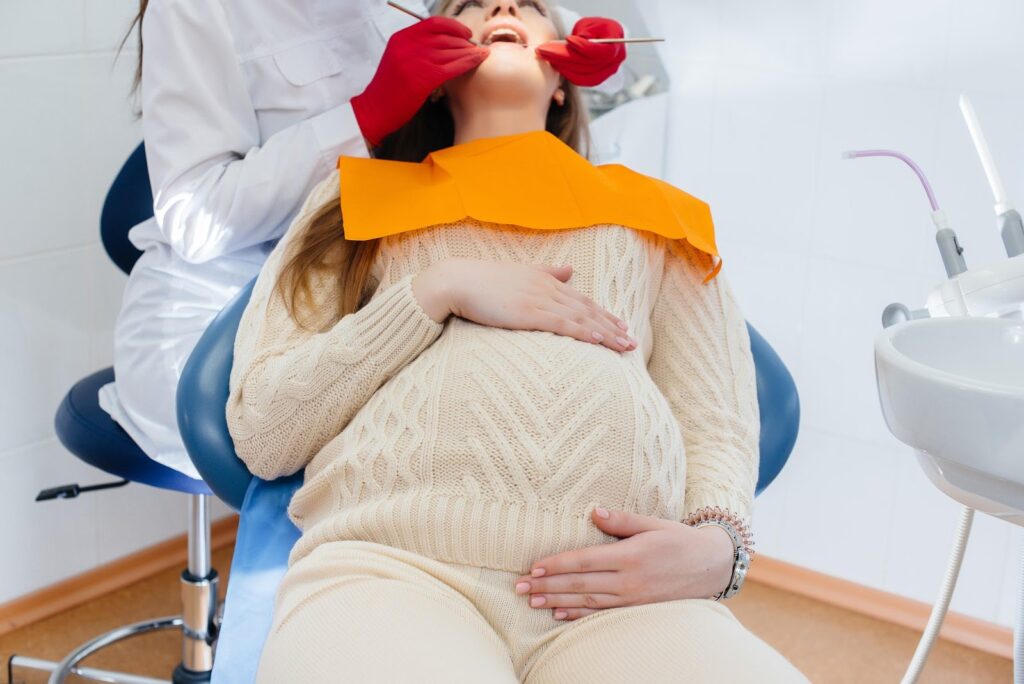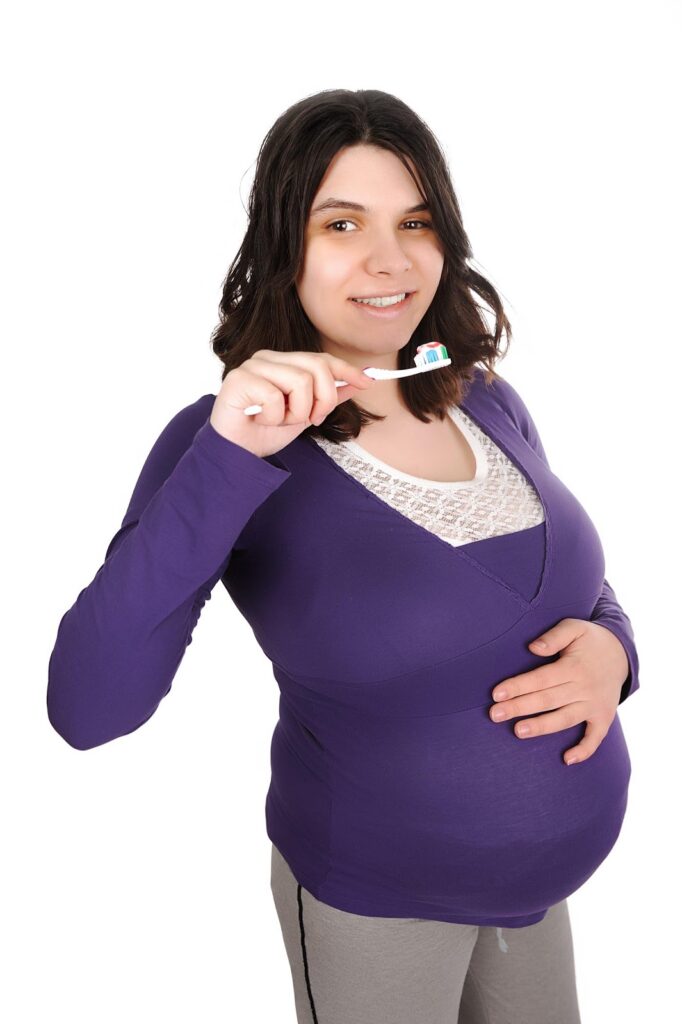 What to Expect When Pregnant for Oral Health
During pregnancy, the changing hormone levels can leave your mouth more vulnerable to bacteria and plaque, both of which create tender gums during pregnancy. This can put you at greater risk for tooth decay and gum disease.
Here are a few dental issues to monitor during pregnancy:
Gum inflammation is more likely to occur during the second trimester. Your gums may be swollen, tender, and may bleed a little during brushing and flossing. Hormonal changes during pregnancy can endanger the health of mom's gums and can cause pregnancy gingivitis— irritated gums that bleed because of being inflamed.
Untreated gingivitis can lead to periodontitis—a more serious form of gum disease that includes bone loss.
Plaque buildup during pregnancy is common, but brushing and flossing regularly can help. Your body may not fight off plaque as easily when you're pregnant, which can lead to tooth decay.
Pregnancy tumours are overgrowths of tissue appear that on the gums, most often during the second trimester. They are non-cancerous growths believed to be related to excess plaque. They may bleed easily and will usually disappear after the baby is born.
How does the mom's oral health affect the baby's health?
A mom's oral health is connected to the health of her unborn baby and it can be traced back to the bacteria in her mouth.
When a pregnant woman has excessive bacteria growth in her mouth, it can enter the bloodstream through her gums and travel to the uterus thereby triggering the production of chemicals called prostaglandins which are suspected to induce premature labour.
After baby arrives, mom can potentially pass her bacteria on to her newborn (called vertical transmission). So, a mom who has lots of acid-loving bacteria in her mouth will pass higher numbers of those bacteria to her newborn.
Research also suggests a link between preterm delivery, low birthweight babies, and gingivitis.
Dental Hygiene During Pregnancy
Here are daily dental hygiene some tips to keep in mind while you're pregnant:
Even prior to pregnancy, women must visit a dentist for preconception checkup to sort out any existing conditions for which any cleaning, surgical procedure or anesthesia is needed.
Brush your teeth at least twice a day with fluoride toothpaste. If your gums are swollen and tender due to pregnancy gingivitis, try switching to an extra soft toothbrush and brush as gently as possible.
Visit your dentist regularly for professional cleaning and check-up.
Pregnant women should always inform their doctors about their pregnancy status so as to avoid prescription of harmful drugs for the growing baby.
Ask your dentist about an antimicrobial mouth rinse to help combat the increase of plaque.
If you have morning sickness and vomiting, rinse your mouth with a teaspoon of baking soda mixed with water. This will help keep stomach acids from attacking your teeth and causing decay.
Eat a diet rich with calcium, B12 and vitamin C to help keep gums healthy.
Limit sweets and sugary foods and drink water instead of sugary drinks. Eating healthy foods helps give you and your growing baby important nutrients. Your baby's teeth start developing between 3 and 6 months of pregnancy. Nutrients like calcium, protein, phosphorus, and vitamins A, C and D, help your baby's teeth grow healthy.
Pregnant women should also avoid smoking for better health.
Any sort of surgical procedure should be avoided during pregnancy and if it is essential, it can be tried in the second trimester.
Women with excessive vomiting tendency should avoid brushing immediately afterwards as the acid from the stomach can harm their enamel. Infact they are advised to rinse their mouth with water and brush after some time using a soft toothbrush.
Conclusion
Dental care during pregnancy is extremely important. From keeping up with daily oral hygiene to monitoring changes in your mouth, the more in-tune you are with your oral health the healthier your baby will be.

Special thanks to Dr. Rashmi Sharma (MBBS ,DGO) for expert advice