Most women accept and embrace stretch marks, just like they do with their new body shape and other physical changes caused during pregnancy.
When you are pregnant, it is next to impossible to avoid stretch marks. It is bound to happen when your baby starts growing in the womb. During the middle of the second trimester, you will start noticing the stretch marks, predominantly on the belly and breasts, but also your thighs, buttocks, and upper arms. Although one cannot prevent stretch marks, there are ways to mask these marks.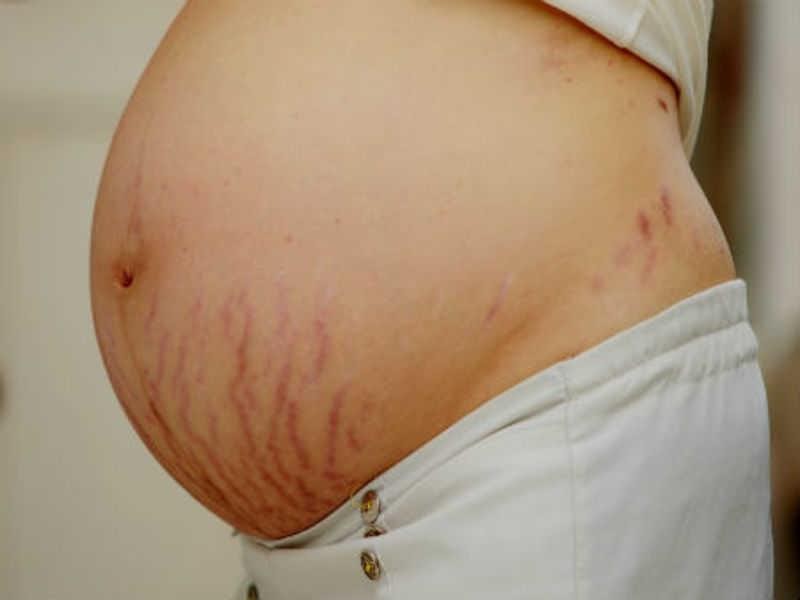 Why stretch marks appear during pregnancy?
Generally, your belly tends to expand during pregnancy. This is because of the fetal growth. The rate of fetal growth is incredibly rapid compared to the expansion capacity of the skin's elastic fibers. Also, during pregnancy, the breasts tend to grow rapidly as the milk duct expands. On the whole, you tend to gain weight. All these factors combined, lead to the stretching of the skin, and leaves the marks.
You will feel itchiness and tightening of the skin when it is expanding. Eventually, you will see many lines emerging on your belly and other parts of the body. They may appear pink or white, and slowly the intensity of the colour will fade away.
How to reduce stretch marks?
There is no way to prevent stretch marks. Those are a part of pregnancy, and you will inevitably get them. However, you can take certain measures to lighten these marks.
Hydration is the best solution to prevent itching. Generally, stretch marks itch when your skin is dry. Adequate hydration will help to overcome itchiness. Applying hydrating lotions or moisturisers will also prevent itching. Some lotions can also help in lightening the stretch marks to some extent.
Gels containing hyaluronic acid will assist in lightening the stretch marks. The best time to try and lighten stretch marks is when they are still pinkish in the shade.
A lotion containing retinoids can increase the cell turn-over time, promoting collagen growth, and giving you new skin. However, it is not recommended to use retinoids on your own. Please consult with your dermatologist before using it, especially when you are pregnant or breastfeeding.
You may also opt for a laser treatment to treat stretch marks. The laser energy is passed through the affected region, which enhances the collagen growth and constricts the blood vessels. After a few sittings, your stretch marks will gradually start to fade away.
Conclusion:
Although stretch marks are unavoidable during pregnancy, there are options available to lighten them if you feel the need to.Â
Special thanks to Dr Dimple chudgar (MD,DNB,FCPS,DGO ,Diploma in advance laparoscopy Germany , Fellow in Robotic Surgery USA ) for the expert advice.