A newborn's skin is soft and delicate and needs special care.
A newborn's skin is soft and delicate and needs special care. A proper skincare and bathing routine can help maintain the health and texture of your baby's skin and hair while also providing a happy experience for both of you. However, contrary to popular belief, most babies do not need a bath every single day. With all the diaper changes and wiping of the mouth and nose after feedings, most babies only need to be bathed 2 or 3 times a week.
While making the pre-delivery arrangements, make sure to purchase baby-friendly skin and shower sets that can be used once you are back at home with the baby.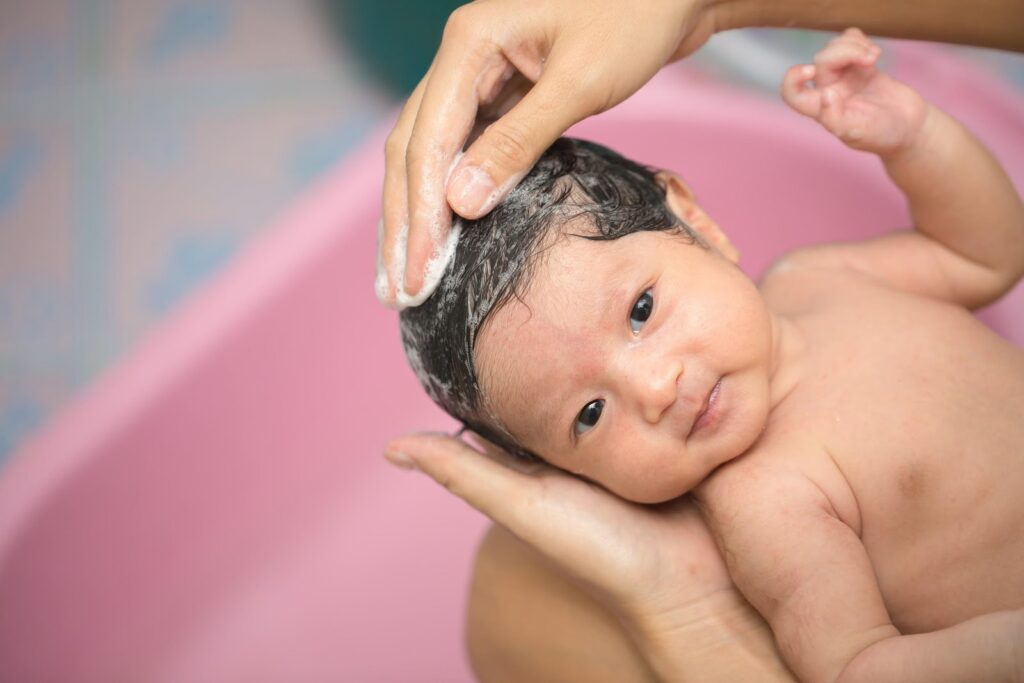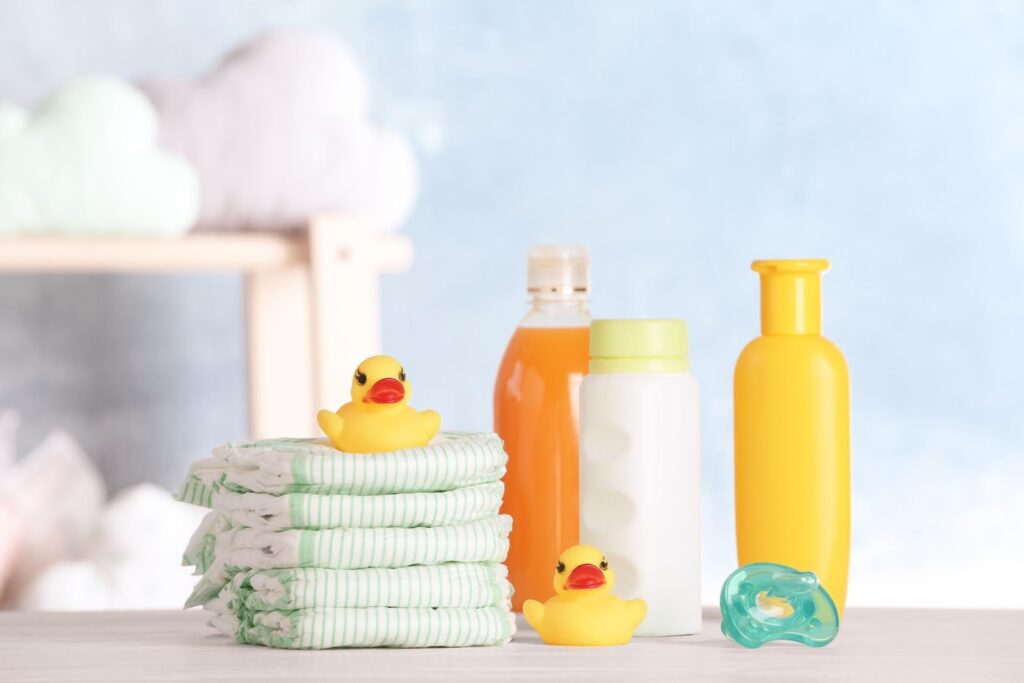 What factors to be kept in mind while selecting a shampoo?
Whether your baby has less hair or a full head of hair, it is important to keep the scalp clean with a gentle, moisturizing shampoo.
Avoid using any shampoo that is heavy on chemicals as it could be too harsh on your baby's skin.
Ideally, you should look for formulas that contain natural, plant-based ingredients like:

Fruit oils, such as raspberry and avocado oil
Chamomile extract
Sunflower seed oil

Avoid using shampoos that may have the following chemicals:

Parabens, or chemicals that are used as preservatives in cosmetics
Phthalates, or chemicals found in plastic
Dyes
Sulfates, specifically sodium lauryl sulfate (SLS), which is commonly found in household cleansers

Added fragrances or perfumes can cause irritation or trigger an allergic reaction and ideally should be avoided.
You should also look for a product that's tear-free, meaning it won't irritate baby's eyes, and formulated for sensitive skin.
Keep in mind, however, that just because an ingredient is natural does not mean it can't cause a skin reaction in a baby. If you think that your baby may be allergic to a particular ingredient, speak with your pediatrician.
How to select a body wash?
Avoid using regular soaps on your baby's skin because many of them are very drying, and contain perfumes or other allergens which can irritate a baby's sensitive skin.
Use a tear-free formula to avoid irritating your baby's eyes.
Hypoallergenic washes are best for babies with dry skin, eczema or allergies.
Ideally, you should stick with unscented baby washes because products with fragrance can cause allergic reactions. If you must have a scent, opt for a wash that is naturally scented and mild.
Avoid products that contain dyes or harsh chemicals like parabens, phthalates and sulfates.
Alcohol listed as ethanol or isopropyl alcohol is another ingredient to avoid as It can cause dryness, irritation, rash and breakouts
While using baby powder, make sure that:
Put the powder in your hand and then apply it to your baby's skin.
Shaking powder into the air releases dust and talc, which can make it hard for your baby to breathe.
Use only a moderate amount of powder as and when necessary
Conclusion
It is best to use hair and skin products that have been made especially for babies, as products for grown-ups can be too harsh for a baby. In case your baby has any issues or allergies, consult the doctor on the specific product to use that is safe for your baby.

Special thanks to Dr Santosh Soans (M.D, ( PEDIATRICS) DCH )for expert advice