What is Amniocentesis?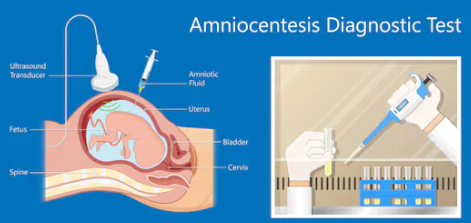 Amniocentesis is a test that involves the aspiration of the amniotic fluid present in the uterus. As a fetus lies in the amniotic fluid, some of the fetus's cells mixes with the amniotic fluid. These are then examined for genetic analysis for defects and abnormalities like down syndrome, Thalassemia, Sickle cell disease, and other diseases. The examination of these cells provides some essential and useful information regarding the health of the fetus.
What determines if a woman is at a higher risk?
There are a number of reasons for a fetus that can be more susceptible to being born with genetic defects. If not tested beforehand, this can be a cause for worry and unforeseen anxiety for the parents. Below are a few factors that increase the risk of genetic conditions:
If the woman's age is over 35.
If there is a history of genetic conditions in the family e.g. Thalassemia, sickle cell disease.
If an ultrasound test reveals some abnormalities which are associated with fetal chromosomal anomalies.
If the woman has had a baby with a major genetic defect.
What is the procedure for Amniocentesis?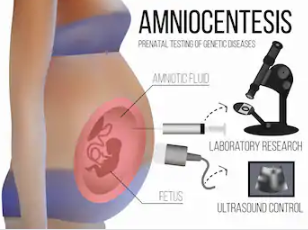 The test is done during the second trimester of the pregnancy, between 16th to 24th weeks of your pregnancy. The process takes place at your doctor's clinic. Through the help of an ultrasound, the doctor inserts a thin needle in your belly to access the amniotic fluid. A fraction of the fluid is taken out and then sent to the laboratory for further testing. Amniocentesis is safe, and there have rarely been reports of it being a painful procedure. Complications related to amniocentesis is 1 to 3 in 1000 cases.
You can decide beforehand which of the genetic condition tests you would like to get done.
What happens after getting the result?
If in case the result shows your baby at risk of being born with a genetic condition, there are steps you can choose to take like testing further to get a more confirmed result. You can consult the doctor if you decide to end the pregnancy as well.
The looming worry of your unborn child having a condition is a constant for parents. These tests help put these anxieties to rest to a certain extent.
Special Thanks to Dr. Prashant Acharya,( MD FICOG), Consultant in Fetal Medicine & High-risk Obstetric care for the expert advice.