Vasectomy is a surgical procedure for male sterilization or permanent contraception.
It is a small operation to be conducted on men, and in most cases, it is carried out in a normal daycare unit. It is not only one of the best ways to prevent pregnancy, but also a permanent solution. This surgery ensures that the sperm are blocked from entering the semen. Hence, if you are indeed opting for a vasectomy, make sure you have thought about family planning well. Once done, you cannot reverse the procedure.
How is a vasectomy done?
For you to understand better, vasectomy is a procedure wherein the tubes that carry the sperm are cut and ligated so that the sperm does not mix with the semen during ejaculation. When the semen has no sperm in it, the chances of pregnancy become nil. It is also known as male sterilization. However, you can still have a normal sex life complete with an orgasm, an erection, and ejaculation. Your testosterone hormone levels remain the same as this procedure does not cause any hormonal imbalance.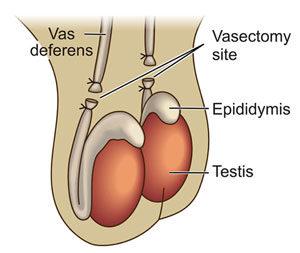 It is a very effective procedure. In very rare cases, the ligated portion might get fused again. Hence, it is recommended to undergo regular follow-ups with your doctor until he confirms your sterility.
The patient generally completely recovers within a week of the procedure being performed and can resume all regular activities immediately.
Side effects of vasectomy
Although vasectomy is a safe procedure, there are mild side effects associated with it. These are swelling, inflammation, bruises, and infection. Even if any of these side effects occur, they will resolve on their own without harming you permanently or hampering your daily activities. However, if you face any serious trouble, or any of the symptoms persist for more than a week, then visit a doctor for better evaluation and treatment.
Precautionary steps to be taken
Even after the vasectomy procedure is done, it is better to confirm that your semen contains no sperm for at least the first 10-20 ejaculations. Your doctor evaluates this with a follow-up test after three months. Until this confirmation, you should use standard contraceptive methods while having intercourse. However, it is always better to use condoms to prevent sexually transmitted diseases, as vasectomy does not offer protection from any sexually transmitted diseases.
Vasectomy is an excellent permanent contraceptive method. However, before opting for this process, make sure that you have thought about family planning well as this procedure is irreversible.
Â
Special thanks to Dr. Siddesh Iyer [MRCOG(UK), MBBS, DGO, DNB – Obstetrics & Gynecology] for the expert advice.