Adenomyosis is a condition in which the inner lining of the uterus breaks through, to enter the muscle wall of the uterus.
Although many people are not well aware of this condition, it is still a serious issue. Though this problem is benign, the menstrual cramps and heavy flow arising due to this condition can have a negative impact in the life of the woman facing it.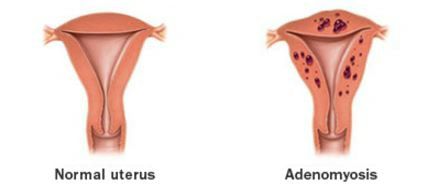 Common symptoms of Adenomyosis
Some common problems that are usually noticed by people who are suffering from Adenomyosis are:
Excessive flow during menstrual cycles
Prolonged duration of bleeding that may cause weakness
Menstrual cramps experienced throughout the menstrual cycle
Causes of Adenomyosis
Adenomyosis mainly originates from the endometrial tissue, within the uterine muscle
There is a close link between Adenomyosis and childbirth.
The inflammation of the uterine lining during the postpartum period might cause a breakage in the cell boundary, thus linking the process of childbirth to adenomyosis.
Certain studies also show that bone marrow stem cells might invade the muscle cells and cause adenomyosis.
No matter what is the cause of this disease, the growth of Adenomyosis mainly depends on the circulating estrogen that is present within the body of women.
Probable risk factors of Adenomyosis:
The main risk factors for this disease are surgical procedures on the uterus, issues at the time of childbirth, and various hormonal changes during middle age. Till a few years ago, it was thought that adenomyosis occurs primarilyin middle-aged women. But now, this problem is increasingly being noticed among younger women too. Hence, if you have a prolonged and excess bleeding during your menstrual cycles, it is better to consult a good gynecologist.
Conclusion
Even though the problem of adenomyosis generally is notlife threatening, it is better to consult a physician when any symptoms are noticed. With preventive steps and actions, the condition can be treated effectively.
Special Thanks to Dr SHYJUS P (MBBS, MS(JIPMER), FMAS, DMAS, FICOG, Certificate in daVinci Robotic surgical system ) for the expert advice.