Loss of libido occurs due to a low level of estrogen in the body, which affects the sex drive.
Even foreplay does not arouse women who are in menopause or about to enter that phase. The interest in sex reduces gradually.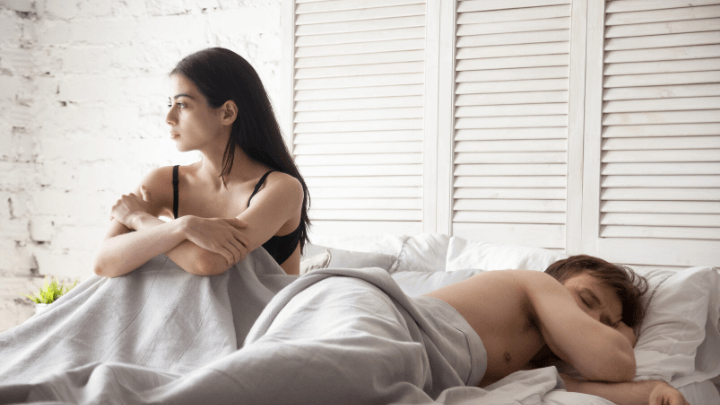 With lower estrogen levels in the body, the blood supply drops down because of which the vaginal discharge is less. This makes the vagina too dry for comfortable sexual activity. Some of the reasons which lead to reduced sex drive are:
Depression
Stress levels
Bladder problems
How can one improve sexual drive after menopause?
Estrogen levels can be replenished, making vaginal dryness less of an issue after menopause. Sometimes combining male hormones and estrogen can also help, which are together known as androgens, which boost sex drive in women. Counselling also helps in many cases when you consult your doctor to explore possible remedies.
Why does menopause affect libido?
A low level of estrogen in the body lowers blood flow and makes the vagina and labia thinner than usual. With menopause, there are mental changes in women, which affects libido. Stress is another reason which affects libido. Some women tend to be irritated often during menopause which in turn affects the libido.
Some other causes of reduced libido are listed as under:
Excessive smoking
Less active sexual life
Any chronic diseases like diabetes, heart disease, etc.
Is daily moisturizing essential during menopause?
Sex drive can be achieved even after menopause by using a mild lubricant that will help keep the vagina smooth and not dry. Manually lubricating and massaging the vulva is essential, which can also be done by vibration. This ensures better blood flow, and the skin becomes tighter.
After pain becomes bearable, how can libido be improved?
The first step towards achieving a normal libido is to think about sex often. Think of a movie scene or indulge in any kind of fantasy to increase the libido. Thinking about sex often can help in this matter.
What type of food can help in increasing libido?
Seafood helps in improving the libido. It improves the blood flow in the vessels and also helps in circulation. Some of these foods include:
Dark chocolate
Blueberries
Green tea
Conclusion
For a good sex life, it is imperative that you have a healthy body. Eating and exercising help a lot in this regard.
Â
Special thanks to Dr. Anita Soni (MBBS, MD – Obstetrics & Gynaecology, DGO) for the expert advice.