Almost 1 in 10 women are affected by PCOS. There is no age limit for contracting PCOS.
Women in their reproductive phase of life are affected by it at any time. However, it is mainly detected when you are planning to get pregnant, as that is the time where you pay attention to your ovulation process. PCOS affects your ovulation process as it has a direct effect on your reproductive hormones.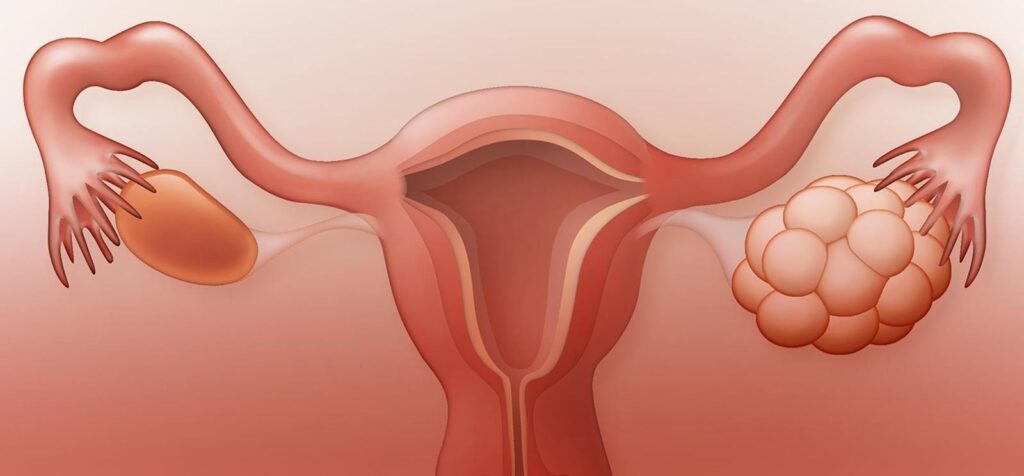 What causes PCOS?
The actual reason for PCOS is still unclear. Still, in most cases, the increase in the male hormone called androgen is responsible for this ailment. Every female body produces androgens but in a limited quantity. However, in women suffering from PCOS, the androgen production level is pretty high. This affects the ovarian process and ovulation. Due to this, you may not be able to release ovum every month.
Also, sometimes, PCOS is connected with increased insulin resistance. Your blood insulin level increases and affects metabolism. This increases your body weight and, in turn, amplifies PCOS symptoms.
Symptoms of PCOS:
Irregular period: You may experience a reduction in the number of period cycles, less than eight periods in a year. Other times, you often tend to menstruate frequently, say in less than 21 days.
Difficulty in getting pregnant
Increased hair growth on the face, groin and lower abdomen
Increased acne
Hyperpigmentation of the skin, particularly on the face and neck
Increased muscle mass on the neck and armpit
Increased hair loss and male-pattern baldness
Obesity
Is it possible to get pregnant with PCOS?
It is certainly possible to get pregnant with PCOS. It is essential to study your ovulation pattern to ensure your pregnancy is successful. Talk with your doctor to know about the possible options to treat PCOS. Your doctor will analyze your hormone levels through a simple blood test, physical examination, and a pelvic ultrasound. Accordingly, your doctor will try to regulate your ovulation through medicines. If medication doesn't work for you, you may be advised to opt for in-vitro fertilization.
However, sometimes, controlling your body weight itself helps to balance your hormones and ovulatory process. You need to follow a healthy diet, incorporate regular physical activity in your lifestyle, and minimize stress. Following a healthy lifestyle will certainly help sort out PCOS problems.
Conclusion:
Follow a healthy lifestyle and take proper gynecological consultation to get pregnant with PCOS.

Special thanks to Dr. Garima Sharma (FRM, M.S. OBGY, DNB OBGY) for the expert advice.