Do you feel a burning sensation while urinating?
Or, felt like peeing, but have irritation and are unable to do so? Well, that is not a regular thing. Urinary pain, irritation, and burning sensation are most probably due to an infection; however, there may be many reasons behind these common complaints.
Causes of Urinary Pain and Burning:
Urinary tract infection:
Infection of the urinary tract or commonly called as UTI is the most common cause for irritation and burning during urination. Our body requires normal bacterial flow, however, in certain circumstances, your urethra and urinary bladder are filled with E coli bacteria causing UTI. It becomes a major health concern, if this spreads to the kidneys. Other bacteria can also cause UTI; however, they are rare. Apart from burning sensation and pain while passing urine, you may also have lower back pain that spreads to the sides.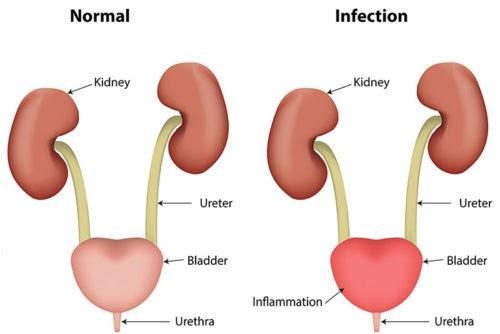 Sexually transmitted disease and vaginal infection: During intercourse, infection acquired from your partner can not only enter the vagina but also can infect the urinary tract. Any other kind of vaginal infection can also quickly enter into the urinary tract, and this will undoubtedly cause burning and pain during urination.
Kidney stone: Kidney stone affects the process of urine formation. You will have cloudy urine with pain in the back and the sides, accompanied by nausea, vomiting, fever, and chills.
Ovarian cyst: Ovarian cysts, especially those caused by infections, can cause painful urination along with unusual vaginal bleeding, painful periods, tender breasts, and pelvic pain.
Bladder cancer: Dysplastic growth in the urinary tract may cause painful urination and a burning sensation.
Chemical sensitivity: Highly scented soaps and perfumes, use of lubes, flavored condoms, vaginal deodorants, etc. might change the vaginal and urinary tract PH and cause a burning sensation and pain while urinating.
Symptoms of urinary discomfort:
You will have an urge to urinate frequently, but only a few drops will be released. You will have a severe burning sensation and sometimes, pain in the bladder while urinating.
It may become difficult for you to control urine.
Pain in the lower region of your stomach and the pelvic region.
Soreness in the vulva and vagina.
Excess vaginal discharge and may be a foul smell due to infection.
Your urine might appear cloudy, with a yellowish tint or mixed with blood, depending on the kind of pathology that causes urinary pain.
Treatment for urinary pain:
Hydrate well.
Drinking ample water will surely help to wash out the infection.
Slowly, you may recover after adequate hydration.
However, if the burning sensation or the pain does not subside or becomes unbearable even after hydrating yourself, it is high time to seek medical intervention.
Special Thanks to Dr. Parag Patil (MD – Obstetrics & Gynaecology, Diploma in Gynaecology & Obstetrics, MBBS, Infertility Specialist, Sexologist) for the expert advice.