after being first detected in December 2019.
Since it is highly infectious and there is no definite vaccine available currently, all of us should follow the recommendation of health experts on using masks to cover our faces to decrease the infection from spreading.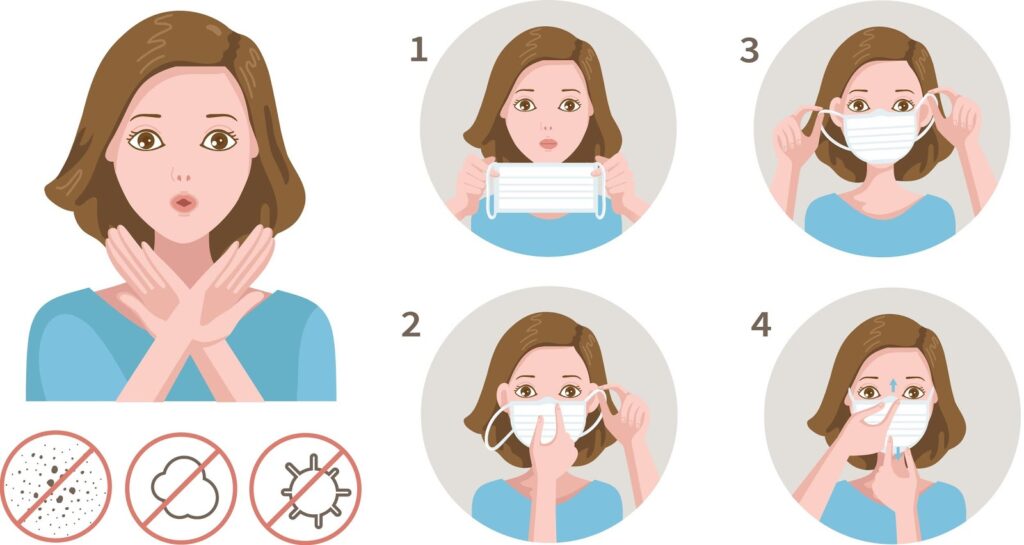 Why is wearing face masks important?
When someone who has COVID-19 coughs, sneezes, or talks, they send tiny droplets with the coronavirus into the air.
A face mask helps by keeping your mouth and nose covered.
It can block the release of virus-filled droplets into the air when you cough or sneeze. This helps slow the spread of COVID-19.
It can also help to block virus-filled droplets from entering your mouth and nose if you are not a COVID-19 positive patient but are wearing a mask.
Masks like a cloth mask, will not block the virus totally. But it's an added layer of protection for you and the people around you when you use it along with regular handwashing and social distancing measures.
What are the steps to wear and remove a mask?
Here are the steps for wearing a mask:
Wash your hands with soap and water or use a sanitizer.
Fit the mask across the bridge of your nose and under your chin.
Loop the fasteners behind your ears or tie them behind your head, depending on the style of the mask.
Once you wear the mask, consider the mask's surface contaminated, inside and out. Don't touch it. Don't adjust it.
If you touch it, you should again wash your hands.
What should be the fit like for the mask?
The mask should fit without gaps and fully cover your nose and mouth. It should be reasonably snug against the skin all around
The nose should be covered to the ridge
The mask should be tucked under the chin
If the mask is on correctly, air will pass through it rather than around it.
How to Take a Mask Off?
Don't touch the front of the mask with your hands to take it off.
Instead, untie the ties or remove the loops from the ears and lift the mask off your face by the ties or loop only.
Place the mask in a closed container. If you are not going to be using it again, dispose of it in a lidded trash bin.
For reusable masks, you can put it in a paper bag with its folds closed
Wash your hands once you take the mask off.
Conclusion
It is important that we follow the guidelines of wearing masks in public places as recommended by health experts to slow down the spread of COVID-19 as well as to bring down the probability of ourselves from getting infected. Care should be taken not only to wear a mask but also it wear and use it correctly.
Special thanks to Dr D.Kiranmai Devineni .MD FICOG Associate Professor. Consultant Obstetrician and Gynecologist for expert advice.