Feminine hygiene is essential in order to maintain overall health.
Owing to the sensitive nature of body tissues present in the intimate areas of the human body, ignoring cleanliness or over-cleansing the areas can both lead to irritation and infection.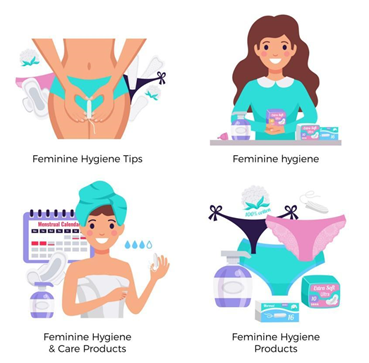 Some easy ways to ensure good intimate hygiene are:
Cleaning intimate areas twice a day gently. Doing it more than two times a day can lead to irritation, itching, and dryness.
Avoid the use of hard water, harsh soap, etc. in these areas. Always use gentle products.
Use water which is not too hot.
Wear clean underwear always. This is probably the easiest thing to do and the one that has the most far-reaching effects.
During the menstrual cycle, change sanitary pads/tampons frequently.
Do not wear clothing that is too tight. In addition, to causing irritation, it also affects the blood flow in these parts.
Keep the areas dry all the time.
Use a soothing cream or ointment if needed.
In case of any abnormal odor or apparent sign of allergies do not delay in consulting a medical practitioner.
If you're using products, it is advised to make use of them externally on the surrounding parts and not internally. Internal usage of such products has the potential of exposing the user to a certain type of harmful chemicals known as phthalates. Doctors are also of the opinion that a healthy vagina is capable of self-cleaning.
Conclusion
The availability of different hygiene products has facilitated and helped in keeping the intimate areas clean. By using tested products that are hypoallergenic, soap-free, pH friendly, mild cleanser, without irritants, offer protection against dryness, and one that helps maintain balance in microflora is important. However, as all bodies are different, consulting your doctors before using any product is always recommended. These tips can be kept in mind to ensure a healthy feminine routine and lifestyle.
Special thanks to Dr. Vijaya Babre (DNB, FCPS, FICOG, DGO, DFP, DHA) for the expert advice.